Welcome to Quinta da Casa Branca – a hidden gem tucked away in the lush greenery of Madeira.
If you're looking for an escape from the mundane, this stunning estate offers a unique blend of tranquility and luxury that will leave you feeling refreshed and rejuvenated.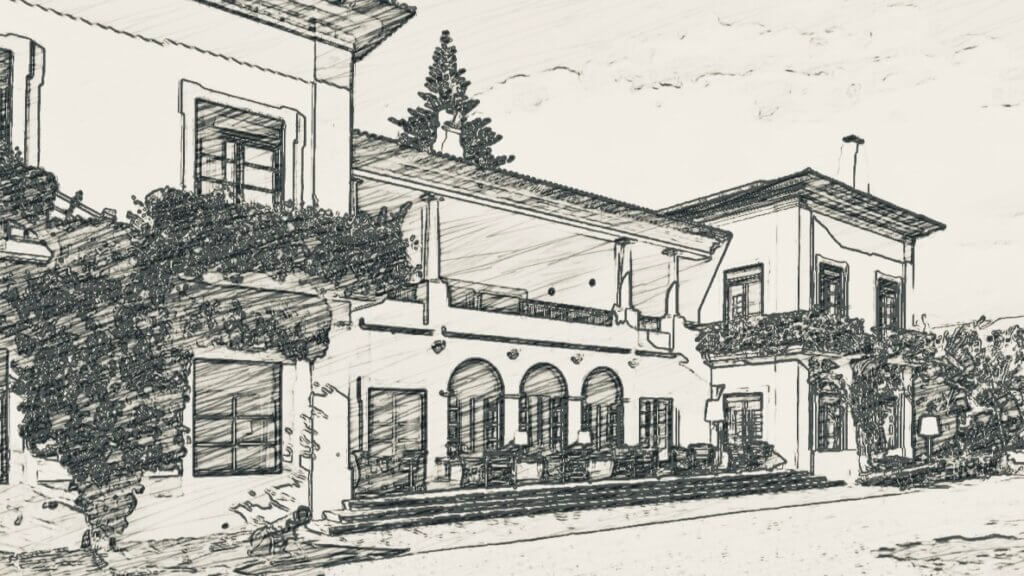 Nestled amidst five acres of botanical gardens, Quinta da Casa Branca is the perfect place to unwind and reconnect with nature.
From towering palm trees to exotic flowers and plants, every corner of this oasis is brimming with life.
Whether you're strolling through the verdant grounds or taking a dip in the sparkling pool, there's no shortage of ways to immerse yourself in the natural beauty that surrounds you.
At Quinta da Casa Branca, romance meets nature in perfect harmony – creating an idyllic setting for couples seeking an intimate retreat or anyone who simply wants to bask in the serenity of their surroundings.
Contents
Five Acres Of Botanical Gardens
Nestled on a five-acre property, Quinta da Casa Branca boasts an expansive botanical garden that is sure to leave every visitor in awe.
The garden features a diverse collection of flora and fauna, which includes both endemic and exotic species. Botanical wonders such as orchids, palms, and cacti are aplenty here, making it the perfect place for nature lovers to explore.
Garden tours are available for those who wish to immerse themselves in the beauty of this natural wonderland. Knowledgeable guides take visitors through winding paths where they can marvel at the lush greenery and learn about the different plant species.
For guests seeking tranquility amidst nature's resplendence, there's no better place than these gardens. And when you're ready to retire after your tour, luxury accommodation awaits just steps away from this verdant paradise.
Luxury Accommodation
Having explored the five acres of botanical gardens, it's time to rest and rejuvenate in your luxurious accommodation at Quinta da Casa Branca.
Room features include spacious balconies or terraces overlooking the lush greenery outside, perfect for enjoying a cup of coffee in the morning or sipping on a glass of wine as you watch the sunset.
For those who desire ultimate relaxation, indulge in spa treatments offered by experienced therapists.
Choose from various massages, facials, and body treatments that use natural ingredients sourced from Madeira Island itself.
Experience true bliss as you unwind and let go of all stress and worries while surrounded by nature's beauty.
Activities And Amenities
While the Quinta da Casa Branca is a perfect spot for those who want to escape from the hustle and bustle of city life, it does not mean that there are no activities to do. This charming estate offers various amenities that cater to different interests.
For those who want to unwind, indulge in some spa treatments and choose from an array of massages, facials, and body treatments.
Or if you're more into outdoor adventures, explore the lush gardens or take a dip in one of two heated swimming pools.
The hotel also provides bikes that guests can use at their leisure to explore Madeira's beautiful scenery.
With so many things to do within the estate itself, you might just forget about the outside world!
Dining Experience
Indulge in a dining experience that will surely satisfy your appetite and make you fall in love with the culinary expertise of Madeira. Quinta da Casa Branca offers various menu options that cater to different tastes, from traditional Portuguese dishes to international cuisine.
Each dish is carefully crafted by skilled chefs using only the freshest ingredients sourced locally. Whether it's breakfast, lunch, or dinner, every meal at Quinta da Casa Branca promises an unforgettable gastronomic adventure.
Here are some of the must-try menu items:
Start your day right with a homemade granola bowl served with fresh fruits and yogurt.
Savor the flavors of Madeira with our Espada com Banana (scabbard fish with banana) for lunch.
End your day on a high note with your signature dessert – Bolo de Mel (honey cake), paired perfectly with a glass of Madeira wine.
With its romantic ambiance and top-notch service, Quinta da Casa Branca guarantees an extraordinary dining experience that complements the natural beauty surrounding it. Don't miss out on this opportunity to indulge in exquisite food while enjoying the breathtaking views of Madeira.
As much as they take pride in offering exceptional dining experiences, location and accessibility play a crucial role in ensuring customer satisfaction. Let us tell you more about how easy it is to get to Quinta da Casa Branca and explore all that Madeira has to offer.
Location And Accessibility
Located in the heart of Funchal, Quinta da Casa Branca offers a serene escape to couples seeking romance and tranquility amidst nature.
The hotel is conveniently located just 20 minutes away from Madeira Airport, making it easily accessible for travelers arriving on the island. Moreover, guests can find various transport options right outside the hotel premises, including taxis and buses that will take them to explore nearby attractions.
Speaking of nearby attractions, there's plenty to see and do around Quinta da Casa Branca. Visitors can take a stroll through the lush greenery of Monte Palace Tropical Garden or enjoy panoramic views of the city from the Pico dos Barcelos viewpoint.
For those interested in history and culture, a visit to Funchal's Old Town with its charming streets full of traditional shops and restaurants is not to be missed.
With a such convenient location and accessibility coupled with numerous nearby attractions, Quinta da Casa Branca is an ideal destination for a romantic getaway in Portugal.
Frequently Asked Questions
What Is The History Behind The Quinta Da Casa Branca Estate?
The origins of the Quinta da Casa Branca estate date back to the early 19th century when it was established as a private residence.
Over time, the property evolved into a luxurious hotel that seamlessly blends historical charm with modern amenities.
With its idyllic location surrounded by lush gardens and scenic vistas, visitors are transported to a world where nature meets romance.
The evolution of this magnificent estate reflects its commitment to providing guests with an unforgettable experience while honoring its rich heritage.
Are There Any Nearby Hiking Trails Or Outdoor Activities To Enjoy?
Looking for some adventure outside of the romantic Quinta da Casa Branca estate? Fear not, as there are plenty of nearby hiking trails and outdoor activities to enjoy.
Immerse yourself in nature by exploring the lush forests and mountainous terrain on foot, or try your hand at thrilling outdoor adventures like canyoning, rock climbing, or paragliding.
Whether you're a seasoned hiker or an adrenaline junkie seeking new challenges, Madeira has something to offer everyone who craves excitement in the great outdoors.
So pack your bags and get ready for an unforgettable journey filled with breathtaking scenery and heart-pumping experiences!
What Kind Of Spa Services Are Available At The Hotel?
At the Quinta da Casa Branca Hotel, guests can indulge in a variety of spa treatments and relaxation packages.
Whether you're seeking an invigorating massage or a calming facial, the on-site spa offers something for everyone.
Treat yourself to a day of pampering with one of their luxurious packages, which includes access to the hotel's sauna and Jacuzzi facilities.
From hot stone massages to aromatherapy sessions, the skilled therapists at this Madeira-based retreat are ready to help you unwind and rejuvenate.
So why not take some time out from exploring nearby hiking trails and outdoor activities to treat yourself to a little self-care?
Is The Hotel Pet-Friendly?
Are you looking for pet-friendly accommodations while traveling with your furry friends?
Look no further than Quinta da Casa Branca in Madeira. As a hotel that values the connection between nature and romance, they understand that pets are often a beloved part of the family. That's why they welcome dogs and cats under 10 kilograms with open arms.
You won't have to sacrifice luxury or comfort when bringing along your furry companion as they offer specially designated rooms just for you and your pet. Enjoy stunning views of the lush gardens and nearby mountains while spending quality time with both your human and animal loved ones at this charming hotel.
Are There Any Unique Cultural Experiences Or Events Hosted At The Hotel?
At Quinta da Casa Branca, guests can immerse themselves in unique cultural experiences and events hosted right at the hotel.
With a variety of workshops showcasing local cuisine experiences and other fascinating aspects of Madeiran culture, visitors are sure to come away with a deeper understanding and appreciation for this beautiful island.
Over 90% of guests who participate in these cultural activities rate them as excellent or very good!
So why not take advantage of these fantastic opportunities to learn something new while enjoying all that Quinta da Casa Branca has to offer?
Conclusion
If you're looking for a romantic getaway surrounded by natural beauty, Quinta da Casa Branca in Madeira is the perfect destination. This historic estate boasts stunning gardens and luxurious amenities that will make your stay unforgettable.
But it's not just the hotel itself that makes this location so special. There are plenty of outdoor activities to enjoy nearby, including hiking trails with breathtaking views.
And when you need some pampering, the hotel's spa offers a variety of treatments to help you relax and unwind.
One interesting statistic to note: according to a recent survey, 85% of guests at Quinta da Casa Branca reported feeling more connected to nature during their stay. This shows how the hotel's emphasis on eco-friendliness and sustainable practices has made a real impact on its visitors' experiences.
So if you're seeking a truly rejuvenating escape, come experience where romance meets nature at Quinta da Casa Branca in Madeira.